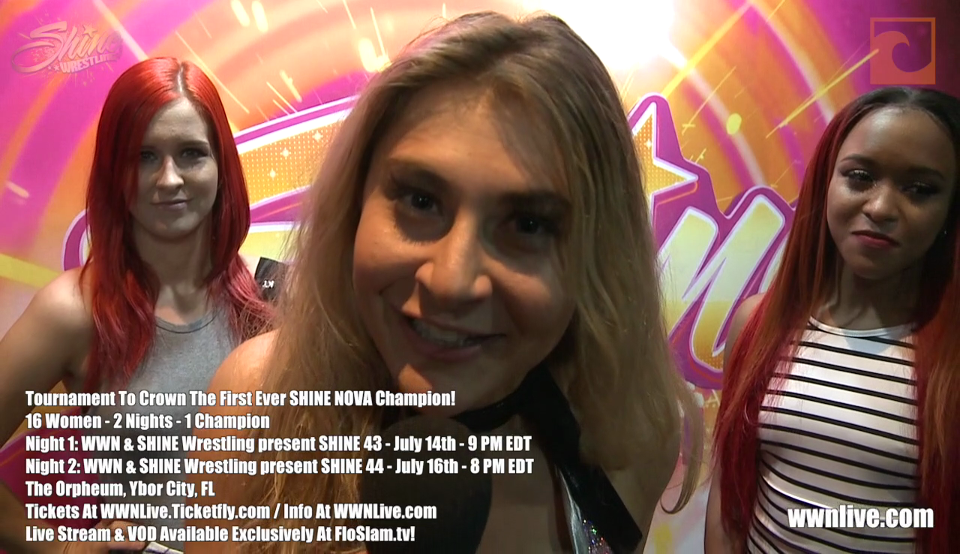 SHINE 42 Recap: New Tag Team Champions, A Dangerous "Club" Of Women, SHINE Title Status & More!
It is time for history to be made when we crown a first ever SHINE NOVA Champion over two nights in a 16 woman tournament at SHINE 43 and SHINE 44 but first, we take a look at some of the key happenings at SHINE 42 in this #SHINE42 Recap that highlights the SHINE Championship Match between Champion LuFisto and Leva, the SHINE Tag Team Championship Match between Santana & Gabi and Mercedes Martinez & Ivelisse and a new dangerous "Club" of women that all in SHINE better be careful of! All that is just a sample of SHINE 42, which can be viewed Video on Demand exclusively at http://www.FloSlam.tv!
We hope you join us when WWN & SHINE Wrestling crowns the first ever SHINE NOVA Champion over two nights! It begins with Night 1 at SHINE 43 on Friday, July 14th at 9 PM EDT and will conclude on Night 2 at SHINE 44 on Sunday, July 16th at 8 PM EDT. Tickets & Info at http://www.WWNLive.com. Live streams at http://www.FloSlam.tv.
Here are the 16 participants:
-Aja Perera
-Robyn Reid
-ACR
-Candy Cartwright
-Dynamite DiDi
-Priscilla Kelly
-Holidead
-Ivelisse
-La Rosa Negra
-Shotzi Blackheart
-Jordynne Grace
-Aria Blake
-Veda Scott
-Leah Vaughan
-Stormie Lee
-Kiera Hogan
Thank you for your support!