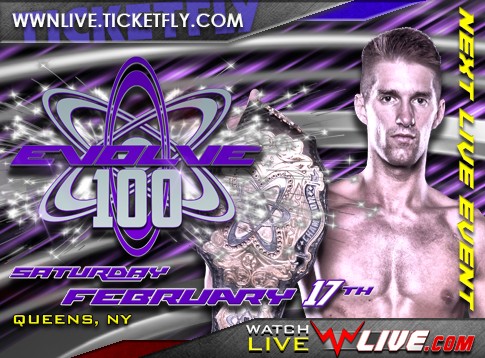 EVOLVE 100 Card Released!
EVOLVE is always about bringing the future to the present day. EVOLVE 100 will focus on potential breakout talent against EVOLVE regulars. The big news is that the card will be headlined by three championship matches. These matches will shape the future of EVOLVE.
Matt Riddle vs. James Drake is set for EVOLVE 100.
Tracy Williams with Stokely Hathway vs. Anthony Henry is signed for EVOLVE 100.
Fred Yehi vs. Dom Garrini has been added to EVOLVE 100.
Darby Allin vs. Jason Kincaid vs. Jarek 1:20 with Candy Cartwright will be the prelim match at EVOLVE 100. If either Kincaid or Jarek defeat Allin, they will get his spot in the Four Way Elimination at EVOLVE 101 in Joppa, MD that has Allin vs. Matt Riddle vs. Austin Theory vs. Jaka.
What are your favorite EVOLVE moments through the first 99 shows? Please tweet us using hashtag #EVOLVE100 and we'll retweet you. You can even make a
video!
We want to hear what stood out to you. Please let us know. Thank you!

EVOLVE Championship Match
Zack Sabre Jr. defends vs. Austin Theory with Priscilla Kelly
WWN Championship Match
Keith Lee defends vs. AR Fox
EVOLVE Tag Team Championship Match
Chris Dickinson & Jaka defend vs. The End
The Future Is Now Match #1
Matt Riddle vs. James Drake
The Future Is Now Match #2
Tracy Williams with Stokely Hathaway vs. Anthony Henry
The Future Is Now Match #3
Fred Yehi vs. Dom Garrini
Prelim Match – Triple Threat
Darby Allin vs. Jason Kincaid vs. Jarek 1:20 with Candy Cartwright