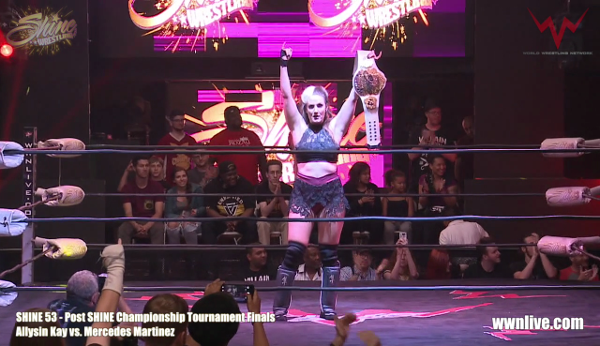 SHINE 53 Recap: A New SHINE Champion Emerges!
At WWN & SHINE Wrestling present SHINE 53, we crowned a new SHINE Champion in a one night tournament with Allysin Kay emerging victorious! But that wasn't all! The SHINE Tag Team Championship was also on the line, the issue between Santana and Priscilla Kelly continued to brew and so much more. This SHINE 53 Recap takes a look at some of the major happenings as we get ready for WWN & SHINE Wrestling present SHINE 54!
We hope you join us on Friday, November 2nd, 2018 at The Orpheum in Ybor City, FL for SHINE 54 at 9 PM EDT! Tickets and info at http://www.WWNLive.com!
Watch the Live Stream and Video-on-Demand at:
www.WWNLive.com
www.ClubWWN.com
WWN Roku App
Club WWN Amazon Fire TV App
Club WWN Apple TV App
Club WWN Android TV App
Club WWN Facebook Page
FITE TV
Here's what's announced:
SHINE Championship Match
Allysin Kay defends vs. LuFisto
SHINE Tag Team Championship Match
Twisted Sisterz of Holidead & Thunder Rosa defend vs. Las Sicarias of Ivelisse & Mercedes Martinez
SHINE Nova Championship Match
Candy Cartwright of The Cutie Pie Club defends vs. Aja Perera
Ybor City Street Fight
Santana vs. Priscilla Kelly
Su Yung vs. Stormie Lee
Rainbow Bright of Luscious Latasha & Gabby Gilbert vs. Brandi Lauren & Jenna
Dementia D'Rose of The Cutie Pie Club vs. Aerial Monroe
Kiera Hogan of The Cutie Pie Club vs. Amber Nova
Four Way Freestyle
Jordynne Grace vs. Dynamite DiDi vs. Lea Nox vs. Violet Payne
SHINE Sparkle Match
Avery Taylor vs. Red Velvet
Thank you for your support!