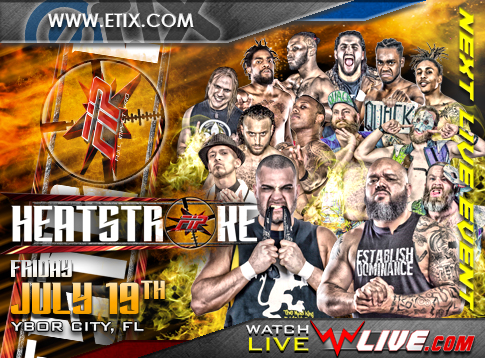 Full FIP Heastroke 2019 Card Announced — Even This Friday July 19th!
WWN & Full Impact Pro present
Heatstroke 2019
Friday, July 19th, 2019
Bell Time – 9:00 PM EDT
The Orpheum
1915 E. 7th Avenue
Ybor City, FL
Tickets on sale at www.Etix.com or by calling 1-800-514-3849!
Watch the Live Stream and Video-on-Demand at:
www.WWNLive.com
www.ClubWWN.com
WWN Roku App
Club WWN Amazon Fire TV App
Club WWN Apple TV App
Club WWN Android TV App
Club WWN Facebook Page
FITE TV
Already announced:
FIP Florida Heritage Championship Match
Jon Davis defends vs. Eddie Kingston
Six Man Grudge Match
The Skulk of EVOLVE Tag Team Champion Leon Ruff, Adrian Alanis & Liam Gray vs. OAO of Troy Hollywood, Hunter Law & Snoop Strikes
FIP Tag Team Championship Match
Precipice of Chance Auren & Omar Amir w/ Skinny Vinny defend vs. The Ugly Ducklings of Rob Killjoy & Lance Lude w/ Coach Mikey
This Means War!
The End of Parrow & Odinson vs. WAR Godz of ACW Champion Damien Angel & Logan Creed
Tag Team Attraction Match
Tinder Boys of Bryan Idol & Matt Delray w/ Superstar Sean Davis vs. Blanco Loco & Joey Ozbourne
Future Star Showcase
Filth King Brubaker vs. Tracer X
WWN Seminar/Tryout Standouts Collide
Cyrus Satin vs. Ian Maxwell
"Superstar" Sean Davis has called out Francisco Ciatso!