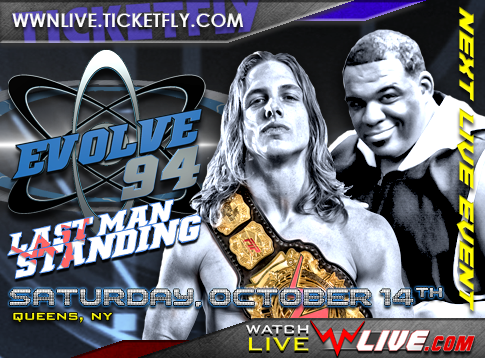 EVOLVE 94 Tonight At La Boom And Streaming Live On WWNLive.com!
This weekend EVOLVE puts all the focus back on wrestling with major main events, fun matches and new talent. Here's some quick notes going into the weekend:
-You can still get tickets for EVOLVE 94 today in Queens, NY back home at La Boom and EVOLVE 95 this Sunday in East Haven, CT. Order now at TicketFly.com. You can print out the tickets or just show the barcode on your cell phone. No need to deal with will call! We have the building and belltime info below.
-You can pre-order this weekend's live iPPVs now at WWNLive.com. Please note that we are keeping the iPPV prices at pre-order rates and not raising them $5 on the day of the show as has been done in the past. We appreciate you staying with us while we bring the live iPPVs back in house to WWNLive.
-We will have all three nights of PWG BOLA 2017 on DVD and Blu-ray at the WWN merch table in addition to a full line of EVOLVE and other Blu-rays & DVDs!
– All ticket holders get a merch credit they can use at the show! The merch credits are $10 if you have a ringside reserve ticket. GA ticket holders get a $5 merch credit. This is the first time we are giving a merch credit for GA ticket holders. The merch credit is only valid at the WWN merch table. It must be used at the show. Merch credits cannot be combined. Thank you for your support!
-WWN Family DVD & Blu-ray 2 & 3 Pack Deals will be in effect this weekend. You can combine your merch credit with 2 & 3 Pack Deals for even bigger savings!
-There will be lots of new talent on this weekend's EVOLVE events that is not advertised. We want you to get a first impression at the event without any preconceived judgments.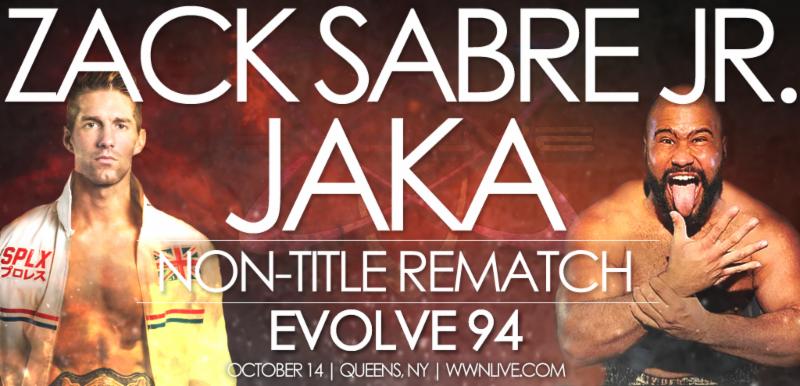 EVOLVE 94
Saturday, October 14th, 2017
Belltime – 6:00 PM EDT
La Boom
56-15 Northern Blvd
Woodside, NY
Tickets & Info At WWNLive.com
Watch At WWNLive.com
Last Man Standing WWN Championship Match
Matt Riddle defends vs. Keith Lee
Non-Title Rematch
EVOLVE Champion Zack Sabre Jr. vs. EVOLVE Tag Team Champion Jaka
Former Catch Point Team Members Collide!
(If Williams Wins, His Match vs. ZSJ At E95 Will Be For The Title. If Yehi Wins He Gets Future Shot)
Tracy Williams with Stokely Hathaway vs. Fred Yehi
Special Challenge Match
Darby Allin vs. Jarek 1:20
JUST ADDED
EVOLVE Tag Team Champion Chris Dickinson vs. Jason Kincaid
Plus more with Austin Theory with Priscilla Kelly and new talent!!!