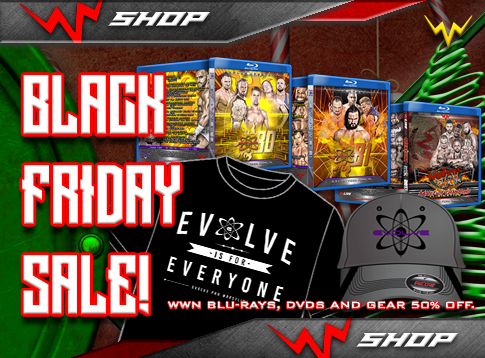 WWN Black Friday Sale Is Live! Blu-rays, DVDs and merch 50% off (including PWG)!!!
All WWN Family Blu-rays, DVDs and merch at www.WWNLive.com is 50% off for the Black Friday Sale! This means Blu-rays are only $10, DVDs are just $5 while hats and shirts are only $10! There's even more merch! This includes all The WWN Family brands like EVOLVE, SHINE, WWN Supershow, FIP, Style Battle, DGUSA and more! Go browse our catalog for all the selections!
Hold on! You won't believe this! All PWG DVDs/Blu-rays (except BOLA 2017) are 50% off in the WWNLive.com Shop! Yes, you read that right!
There are 10, that's right TEN, new EVOLVE/WWN Supershow Blu-rays now available in the WWNLive.com Shop and part of the 50% off sale! These include never- before-released classic titles with Johnny Gargano and the Young Bucks to Chris Hero's final independent wrestling events. Check out our catalog now!