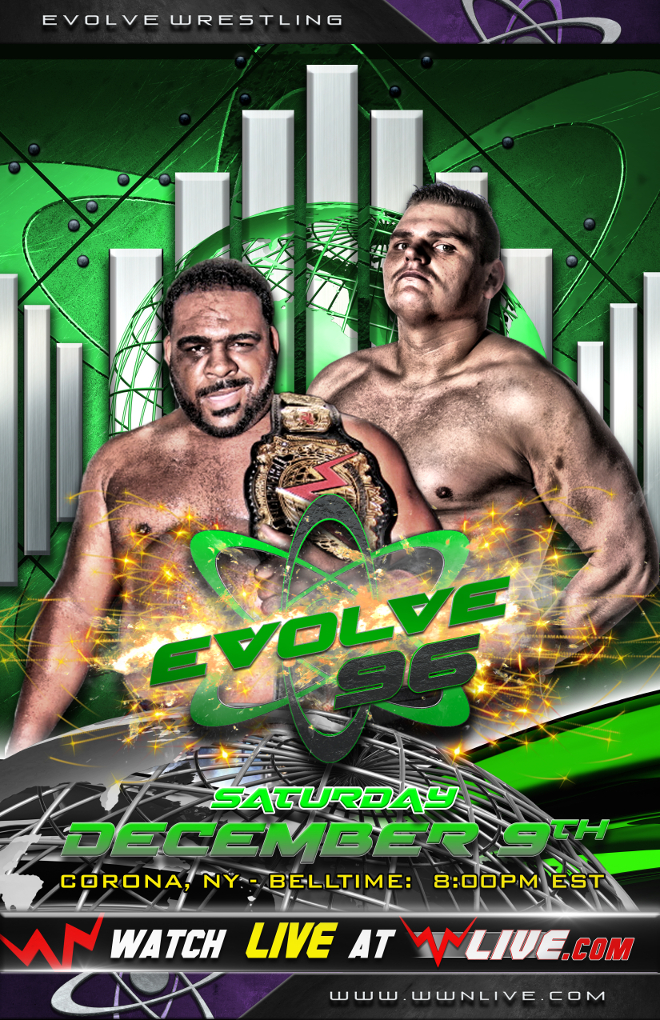 EVOLVE 96 Preview
EVOLVE 96
Saturday, December 9th, 2017
Belltime – 8:00 PM EST
Elmcor Youth and Adult Activities
107-20 Northern Blvd
Corona, NY 11368
Tickets on sale at TicketFly.com.
Pre-order the iPPV at WWNLive.com with live viewing only or live viewing & VOD options.
WWN Championship Match
Keith Lee defends vs. WALTER
The story here is very simple. Lee is the new WWN Champion. He has already defended the championship in the UK, but this is his first title defense in EVOLVE. WALTER wants to walk into New Orleans as champion. These are two of the most powerful and agile big men in the entire sport. This will be a collision for the title! Who is your pick?
EVOLVE Tag Team Championship Match
Jaka & Tracy Williams with Stokely Hathaway defend vs. James Drake & Anthony Henry
Jaka's regular partner, Chris Dickinson, is serving a suspension from wrestling this weekend. Catch Point teammate Williams will fill in. Drake & Henry shocked the world when they won the EVOLVE Tag Team Championship earlier this year in their debut match. This will be their rematch. Can they make history again against the makeshift championship team?
No Rope Break Match
Matt Riddle vs. Fred Yehi
Yehi defeated Riddle at EVOLVE 95, but Riddle has rightfully claimed the victory was tainted because he had made the ropes. Now EVOLVE is eliminating any controversy, because the ropes cannot save you in this rematch! What do you think of a No Rope Break Match?
Non-Title Special Attraction Match
EVOLVE Champion Zack Sabre Jr. vs. DJZ
DJZ has proved in recent months that he is among the most talented athletes in all of wrestling. He wants to established himself in EVOLVE. There is no better way than defeating Zack Sabre Jr. in a non-title match. This is a meeting of two men who will carry the business in 2018.
Battle Of The Breakout Stars
Darby Allin vs. Austin Theory with Priscilla Kelly
All three of these young upcomers made their reputations in 2017. They will close the year with a match against each other that could set the tone on who will be the breakout star of 2018. Can Allin get into title contention? Will Theory realize is potential?
Special Attraction Match
Jason Kincaid vs. AR Fox
Fox was the first EVOLVE Champion. Now he has returned and is looking to be a main player going into 2018. These two create some of the most innovative, unusual and insane offense anywhere in wrestling. Who will get momentum to close out 2017?
Plus three prelim matches featuring Jarek 1:20, Shane Mercer, Stephen Wolf, Joey Lynch
and other top upcoming talent!
EVOLVE was founded to give new talent a stage to become stars. We saw it on the 1st EVOLVE card with athletes like Johnny Gargano, Ricochet, Kyle O'Reilly, Bobby Fish, Adam Cole and Luke Harper. Now EVOLVE is adding prelim matches to give the new wave of talent this stage. Who will be the next stars?
NXT General Manager William Regal will be available for pictures and autographs! Mr. Regal will also make an appearance on the live event!
Mr. Regal has made it clear on WWE.com that he is coming to EVOLVE for a reason. He will appear on the live show only and there is no telling what will happen.