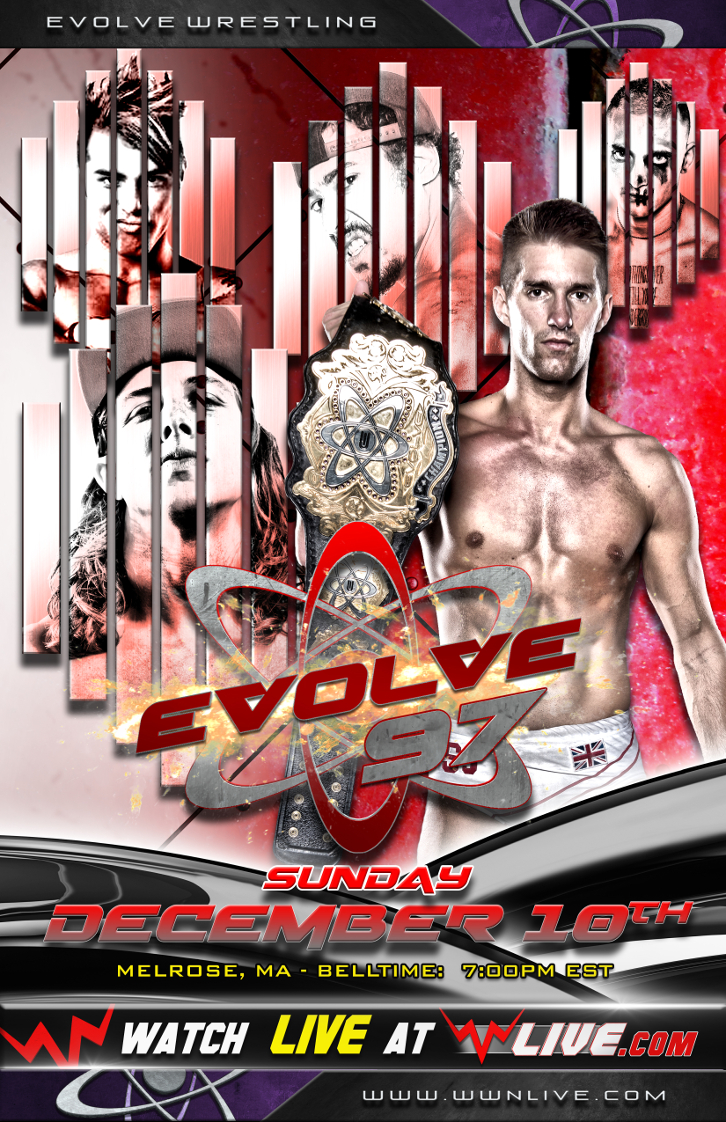 EVOLVE 97 Preview – Live December 10th from Melrose, MA!
EVOLVE 97
Sunday, December 10th, 2017
Belltime – 7:00 PM EST
Melrose Memorial Hall
590 Main Street
Melrose, MA 02176
Tickets on sale at TicketFly.com
Pre-order the iPPV at WWNLive.com with live viewing only or live viewing & VOD options
Main Event #1 – EVOLVE Championship Match
Zack Sabre Jr. defends vs. EVOLVE Tag Team Champion Jaka with Stokely Hathaway
This is turning into a classic rivalry. ZSJ won the first epic match (watch for free), but Jaka stunned ZSJ with a pinfall victory at EVOLVE 94 in a non-title match. Jaka has a chance to realize his potential and become a top star this Sunday. Can he do it?
Main Event #2 – The Rivalry EVOLVEs
Matt Riddle vs. WALTER
These two punishing pugilists have gone to war in the past. They have one of the best rivalries in wrestling. It will finally come to EVOLVE this Sunday. However, there is much more than personal pride on the line. These two each want to be at the top of EVOLVE in 2018. Who will get the win?
High Stakes Three-Way Match – Non-Title – Winner Gets To Book Himself In Any Match He Wants
WWN Champion Keith Lee vs. Tracy Williams with Stokely Hathaway vs. Darby Allin
Lee and Williams went to a violent no-contest at EVOLVE 89. Both Lee and Williams have defeated Allin in singles matches. The winner will get to the golden ticket to book themselves in any match they want. This could be the show stealer with these stakes!
FIP World Heavyweight Championship Match
Fred Yehi defends vs. Austin Theory with Priscilla Kelly
Yehi has been a tremendous FIP Champion with many must see matches. Theory was first discovered in FIP. Yehi wants to defend his championship to raise its profile. Who will enter 2018 as FIP champion?
Top Talents Collide!
AR Fox vs. DJZ
These are two of the most spectacular athletes in pro wrestling today. This match is much more than an exhibition. We hope they will both be regulars in EVOLVE in 2018. Only one can gain momentum by getting the win.
Special Challenge Match
Jason Kincaid vs. Jarek 1:20
Jarek 1:20 would love to take Kincaid's spot. Jarek is full of tricks. He told us he has one ready for this weekend.
Plus three prelim matches featuring Shane Mercer, Stephen Wolf, Brandon Watts
and other top upcoming talent!
EVOLVE was founded to give new talent a stage to become stars. We saw it on the 1st EVOLVE card with athletes like Johnny Gargano, Ricochet, Kyle O'Reilly, Bobby Fish, Adam Cole and Luke Harper. Now EVOLVE is adding prelim matches to give the new wave of talent this stage. Who will be the next stars?
Plus more to be signed with James Drake & Anthony Henry
This is a very interesting situation. Drake & Henry could walk into the Boston area as EVOLVE Tag Team Champions after their match at EVOLVE 96, or they might find themselves bumped to the prelim part of the card.