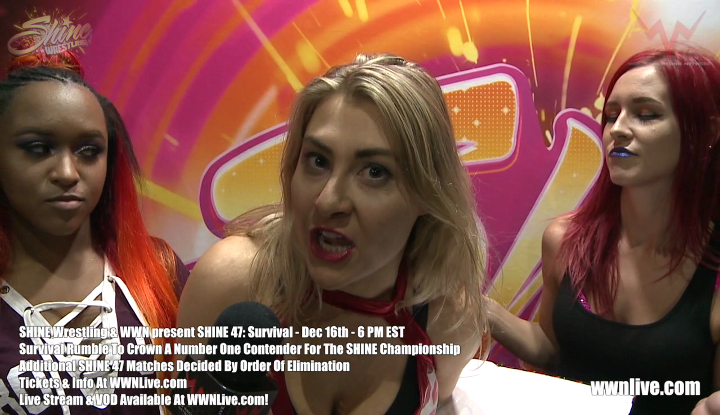 Get Ready for #SHINE47 on Dec 16th With The SHINE 46 Recap!

It's nearly time for SHINE Wrestling & WWN present SHINE 47: Survival, which means it's time to get ready with the #SHINE46 Recap! Take a look at how thinks shook out at SHINE 46 with the SHINE Championship, SHINE Tag Team Championship and SHINE Nova Championship and get ready for an extra dose of the Cutie Pie Club! And don't forget, this is just a sample of the action. Check out the Video on Demand of SHINE 46 is now on http://www.WWNLive.com!
Now, it's all about Survival! We hope you join us for #SHINE47 at 6 PM EST on Saturday, December 16th live on http://www.WWNLive.com and FITE TV from The Orpheum (1915 E. 7th Avenue, Ybor City, FL 33605)! The night is going to kick-off with an over the top rope Survival Rumble to determine the number one contender who will face SHINE Champion LuFisto at SHINE 48, who we regret to inform you will be missing SHINE 47 due to a severe injury. The order of entry in the Survival Rumble will be drawn at random. It will begin with two women with another entering every 60 seconds. While the final woman standing will be number one contender, the rest of the evening's matches will be determined based on order of elimination meaning we could have unique match-ups never before seen in SHINE as well as major opportunities for talents to raise their stock! SHINE Officials will determine whether these match-ups are singles or tag team contests but for sure, the longer a wrestler survives the more likely she will be to move up in the rankings for championship contention. And that's not all! The first ever SHINE Champion "The Radiant" Rain returns and Allysin Kay has warned Brandi Lauren that a "gift" is coming it's just a matter of when (https://youtu.be/AQOgtbP2Q_8)… Find out who will overcome the odds to survive at SHINE 47: Survival featuring:
– SHINE Tag Team Champions Ivelisse & Mercedes Martinez
– SHINE Nova Champion Priscilla Kelly
– The Cutie Pie Club of Candy Cartwright, Kiera Hogan and Aria Blake
– "Radiant" Rain
– Aerial Monroe
– Aja Perera
– Brandi Lauren
– Dementia D'Rose
– Shotzi Blackheart
– Stormie Lee
– Dynamite DiDi
– Robyn Reid
– Natalia Markova
– Plus more to be added!
The Survival Rumble winner will face SHINE Champion at SHINE 48! All other matches will be determined based on order of elimination from the Survival Rumble.
Thank you for watching!