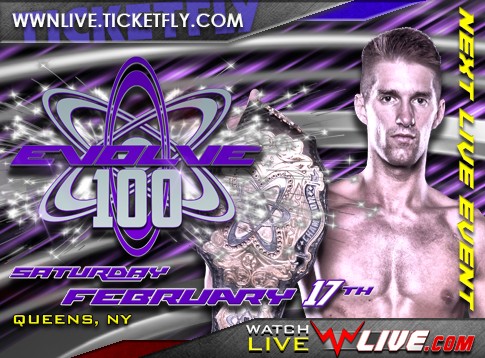 EVOLVE Celebrates 100 Events This Saturday!
We have been retweeting your favorite EVOLVE moments and matches at the
EVOLVE Twitter
. All these matches and moments have led to this Saturday in Queens, NY back home at La Boom for EVOLVE 100. Here is a preview of the card:
EVOLVE 100
Saturday, February 17th, 2018
Belltime – 6:00 PM EST
La Boom
56-15 Northern Blvd
Woodside, NY
EVOLVE Championship Match
Zack Sabre Jr. defends vs. Austin Theory with Priscilla Kelly
ZSJ has been an incredible EVOLVE Champion for the past year. Theory is seen as the future of the company. The present meets the future in this one. Who will carry EVOLVE into the next 100 shows? Watch this EVOLVE Mini-Doc to get the inside scoop on this match!
WWN Championship Match
Keith Lee defends vs. AR Fox
Fox has made it clear he wants the WWN Championship since returning to EVOLVE. He has the resume of Mr. WWN to back it up. Lee has been dominating since winning the WWN Title. Who will walk out of Queens as the champ?
EVOLVE Tag Team Championship Match
Chris Dickinson & Jaka defend vs. The End
The violent feud between Catch Point and The End will explode this Saturday with the EVOLVE Tag Team Championship on the line! This is going to be war.
The Future Is Now Match #1
Matt Riddle vs. James Drake
In the first 100 EVOLVE events one thing became obvious- EVOLVE is Bro. Drake is looking to establish himself as a singles threat. This could be the show stealer.
The Future Is Now Match #2
Tracy Williams with Stokely Hathaway vs. Anthony Henry
Williams has defined the EVOLVE style with his work in Catch Point. Henry is a gifted technical wrestler looking for his breakout singles win. Who will lead the EVOLVE style into the next 100 events?
The Future Is Now Match #3
Fred Yehi vs. Dom Garrini
Yehi was deemed the WWN 2017 MVP for his work in EVOLVE, FIP and Style Battle. Garrini has looked impressive in his first few months in EVOLVE. This is another battle of the present vs. the future.
Prelim Match – Triple Threat
Darby Allin vs. Jason Kincaid vs. Jarek 1:20 with Candy Cartwright
Allin and Kincaid have found themselves in the prelims. Jarek 1:20 keeps looking to secure his spot on the featured matches. This one with three exciting talents will start EVOLVE 100. They all need a win to get out of the prelims.
Tickets are now on sale for this Saturday in NYC and Sunday in the Baltimore area at
TicketFly.com
. There are still a few great reserved seats available for each event. Get them now before they sellout!
You can watch both EVOLVE 100 this Saturday and EVOLVE 101 this Sunday on live iPPV at
WWNLive.com
. Pre-order now! Remember, if you are a
Club WWN
member you get 50% off!