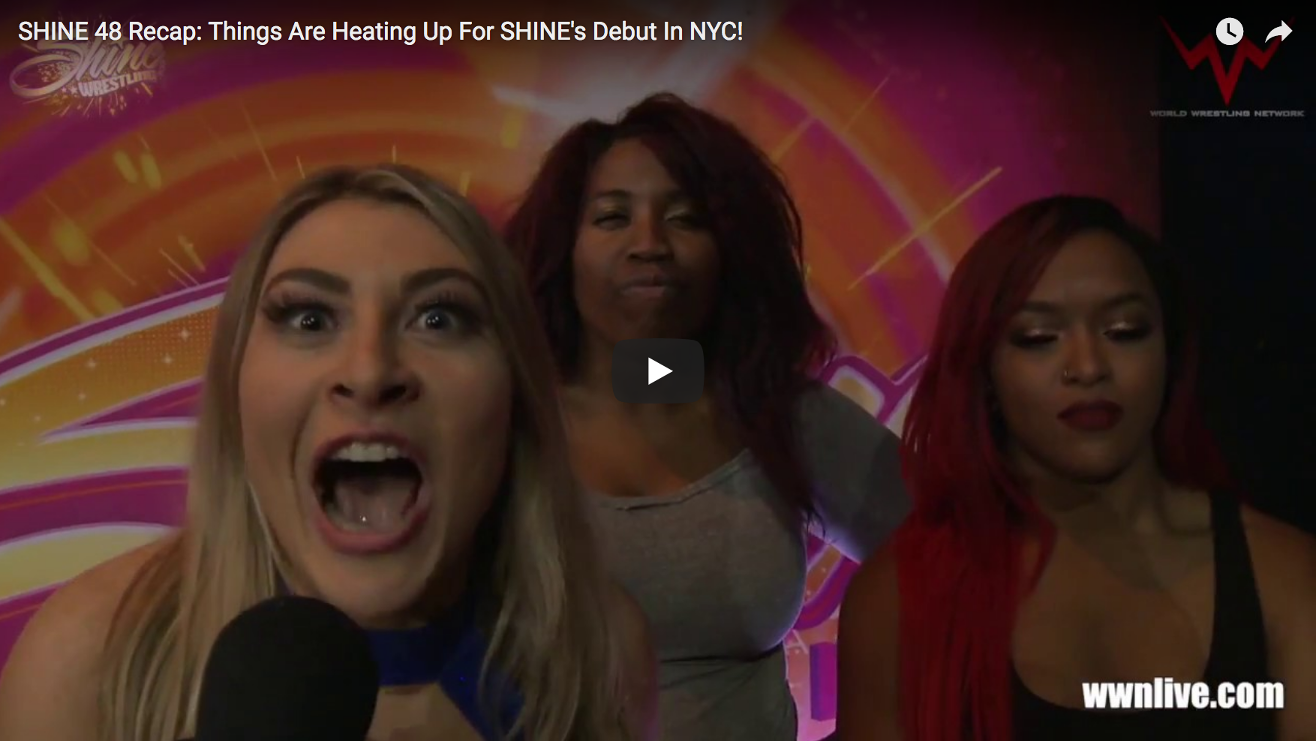 SHINE 48 Recap: Things Are Heating Up For SHINE's Debut In NYC!
SHINE 48 is in the books and what a collision it was as the first ever SHINE Champion Rain challenged the longest ever reigning SHINE Champion LuFisto for her title!? Add to that a Six Woman Tag Team War with SHINE Nova Champion Priscilla Kelly, Aerial Monroe & Vanessa Kraven vs. The Cutie Pie Club of Candy Cartwright, Kiera Hogan & Dementia D'Rose and an international challenge to the SHINE Tag Team Champions Las Sicarias of Ivelisse & Mercedes Martinez as they faced Isla Dawn & Lady Chardonnay Darcy and that's just the beginning! Check out the Video on Demand of SHINE 48 at http://www.WWNLive.com! But now, it's time to get ready for SHINE Wrestling's debut in New York City as the World Wrestling Network presents SHINE 49 on Saturday, March 10th, 2018 at 6 PM EST at La Boom in Queens, NY (56-15 Northern Boulevard, Woodside, NY 11377)! Check out this SHINE 48 Recap and find out who our number one contenders are as well as see the stage set for what's sure to be a hellacious Anything Goes Match!
Tickets for SHINE 49 are available at http://www.WWNLive.Ticketfly.com. Watch the Live Stream and Video on Demand at www.WWNLive.com, the WWN Roku App and FITE TV
Already Announced:
SHINE Championship Match
LuFisto defends vs. SHINE Tag Team Champion Mercedes Martinez
SHINE Nova Championship Match
Priscilla Kelly defends vs. Candy Cartwright of The Cutie Pie Club
Anything Goes!
Vanessa Kraven vs. Dementia D'Rose of The Cutie Pie Club
Rainbow Bright of Luscious Latasha & Gabby Gilbert vs. The Debuting Ruthless Ambition of Maria Manic & Penelope Ford
Kiera Hogan of The Cutie Pie Club vs. Aerial Monroe
Plus More Featuring:
-Stormie Lee
-Brandi Lauren
-Shotzi Blackheart
-Amber Nova
-Plus more to be added!!!
Enroll in pro wrestling's hottest new subscription service, Club WWN, to get 50% off live iPPVs, other perks and access to over 1000 hours of great action from more than eight different promotions. For info visit https://wwnlive.com/my-account/club-wwn-registration/
Thank you for watching!