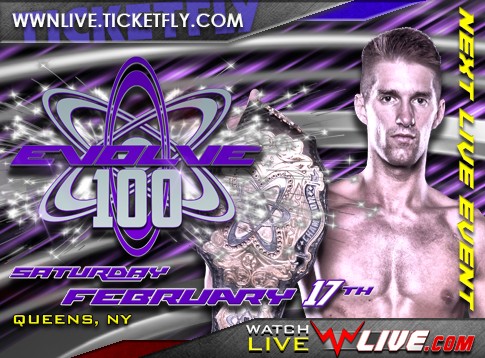 The EVOLVE Centennial Show Celebration Lasts All Weekend Long!
The EVOLVE centennial show celebration will last all weekend with EVOLVE 100 today in Queens, NY at La Boom and EVOLVE 101 on Sunday evening in Joppa, MD at The MCW Arena. We have some notes going into the weekend:
-Tickets for both events are available now at
TicketFly.com
. You can print out the tickets at home or show the barcode on your cell phone. No need to deal with will call! Get the best seats now while they are still available. Tickets will also be available at the door.
-Watch both events on live iPPV at WWNLive.com. The live option is only $9.99 and the live & VOD option is $14.99. This means you own the show forever! Hold on, it gets even better. If you are a Club WWN member you get 50% off, which means the live show is only $5 or own the VOD for just $7.50!
-Check out the WWNLive Facebook at 6pm EST today and 7pm EST on Sunday to watch the prelim matches live for FREE. Give it a like.
-NXT GM William Regal will be a special guest at the
WWN Seminar/Tryout
in Joppa, MD tomorrow. In addition, he will be available for
pictures and autographs
before
EVOLVE 101
this Sunday. He will also be making an appearance on the live event only. Mr. Regal had this to say in advance to this weekend's events:
"Congrats to EVOLVE on their centennial show celebration," Regal said. "EVOLVE always puts on some of the best quality shows in the industry. They do so by having a keen eye for talent. I look forward to being there this weekend in Joppa because I'm sure it'll be no different. It'll be great to watch the future evolve."
-Austin Theory had some final words about what going for the EVOLVE Championship on the 100th show means to him. Watch it
here
.
-EVOLVE Co-Owner Gabe Sapolsky wrote this emotional
blog
on reaching 100 events.
-Voices Of Wrestling wrote this excellent
article
looking back at the evolution of EVOLVE through 99 events.
-Here's how the lineups shape up for this weekend:
EVOLVE Championship Match
Zack Sabre Jr. defends vs. Austin Theory with Priscilla Kelly
WWN Championship Match
Keith Lee defends vs. AR Fox
EVOLVE Tag Team Championship Match
Chris Dickinson & Jaka defend vs. The End
The Future Is Now Match #1
Matt Riddle vs. James Drake
The Future Is Now Match #2
Tracy Williams with Stokely Hathaway vs. Anthony Henry
The Future Is Now Match #3
Fred Yehi vs. Dom Garrini
Prelim Match – Triple Threat
Darby Allin vs. Jason Kincaid vs. Jarek 1:20 with Candy Cartwright
No Holds Barred Match – Non-Title
WWN Champion Keith Lee vs. Tracy Williams with Stokely Hathaway & Dom Garrini
Non-Title Special Attraction Match
EVOLVE Champion Zack Sabre Jr. vs. Chris Dickinson
Four-Way Elimination Match
Matt Riddle vs. Austin Theory with Priscilla Kelly vs. Darby Allin vs. Jaka
Grudge Tag Team Match
James Drake & Anthony Henry vs. The End
Special Challenge Match
Fred Yehi vs. Shane Mercer
MCW Showcase Match
Dante Cabenero vs. Ken Dixon
Plus Three Prelim Bouts!
NXT General Manager William Regal will make a special appearance. Mr. Regal will also be available for pictures and autographs before the event.
Plus more to be signed with:
-Jason Kincaid
-Jarek 1:20 with Candy Cartwright
-Kyle The Beast
-Plus others to be added!
-We want to get personal now. We have been on a crazy ride for the past 99 EVOLVE cards. We are proud that we always moved forward without fear of failure. We tried new concepts. Some worked, some didn't. We gave new talent a stage. Some became stars, some didn't. We moved from physical media into live streaming with failures and successes. It all led to Club WWN. We did it all because you were there to support us. If you ever bought a ticket, DVD, Blu-ray, shirt, hat, iPPV, anything from EVOLVE, you kept us alive. Tonight we celebrate not only the fact that we survived, but that the future is filled with limitless possibility. This weekend will shape the future of EVOLVE as we head to New Orleans and beyond. We hope you will join the party tonight or tomorrow either in person or on live iPPV. We are all the WWN Family. We love you! Thank you!