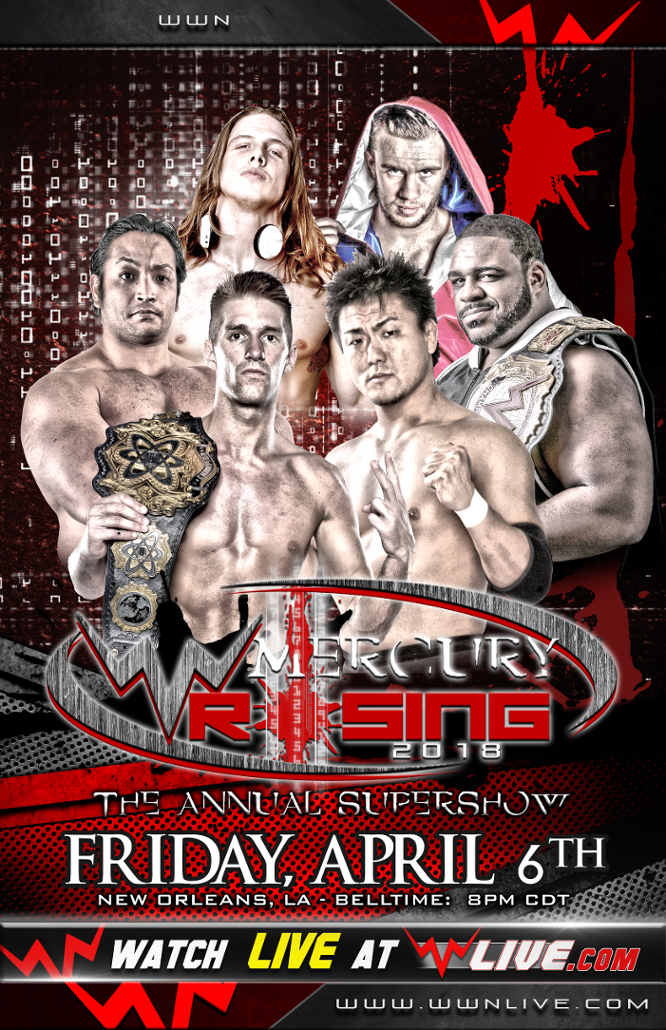 WWN Supershow: Mercury Rising 2018 Preview
The WWN Supershow: Mercury Rising 2018 has become the most anticipated WWN event of the year. This year's lineup might be the greatest yet! We are going to take a look at the card with this quickie preview….
WWN Supershow: Mercury Rising 2018
Friday, April 6th, 2018
Belltime – 8:00 PM CDT
Pontchartrain Center
4545 Williams Blvd
Kenner, LA
Get Tickets at TicketFly.com.
Watch on live iPPV at WWNLive.com. Save 50% by joining Club WWN!
Main Event #1 – WWN Championship Match (if Lee is still champion)
Keith Lee vs. Daisuke Sekimoto
The WWN Supershow features a series of unique dream matches that you can't see anywhere else. This one pits top heavyweights potentially over the top prize in WWN. Lee and Sekimoto have collided in the past, now they are bringing this slugfest to NOLA. Who will win?
Main Event #2 – EVOLVE Championship Match (if ZSJ is still champion)
Zack Sabre Jr. vs. Munenori Sawa
We are beyond thrilled to be able to present a match of this magnitude. Sawa comes out of retirement for one weekend only. Sabre Jr. has carried EVOLVE on his back. How much are you looking forward to this one?
EVOLVE Tag Team Championship Match (if Catch Point are still champions)
Chris Dickinson & Jaka vs. WALTER & Timothy Thatcher
On the surface, this is a battle of the best tag team in EVOLVE against one of the best teams in wrestling. If you look deeper, there's issues between Catch Point's manager Stokely Hathaway and Thatcher. Who will win?
Please note all the above matches will still happen whether the championships are on the line or not
SHINE Championship Match
LuFisto defends vs. Holidead
LuFisto has been unbeatable as SHINE Champion, but now she faces a challenge unlike anything she's had to deal with before. Who will be SHINE Champion after the WWN Supershow?
Bonus Main Event
Matt Riddle vs. Will Ospreay
You have two of the most exciting and top athletes in pro wrestling in this bout. This is another in the line of mind-blowing, main event worthy bouts that make this a true Supershow.
The Six Man Tradition Continues With The Stars Who Will Lead Indie Wrestling In 2018
Darby Allin, DJZ & Trey Miguel vs. Austin Theory, Travis Banks & Zachary Wentz
This year's six man tag team match is very special. WWN is all about new stars. This bout features six men who have the potential to lead independent wrestling starting this weekend. You have EVOLVE regulars in Allin and Theory, top competitors DJZ and Banks and new upcomers in Miguel and Wentz. On top of it, as of now this is scheduled as the opening match so you can watch it for free on the WWNLive Facebook! Who will steal the show?
Plus more to be announced with Tracy Williams with Stokely Hathaway, James Drake, Anthony Henry and others!!!
There will be even more matches added to this loaded event. We'll have updates in this Friday's WWN Alerts!