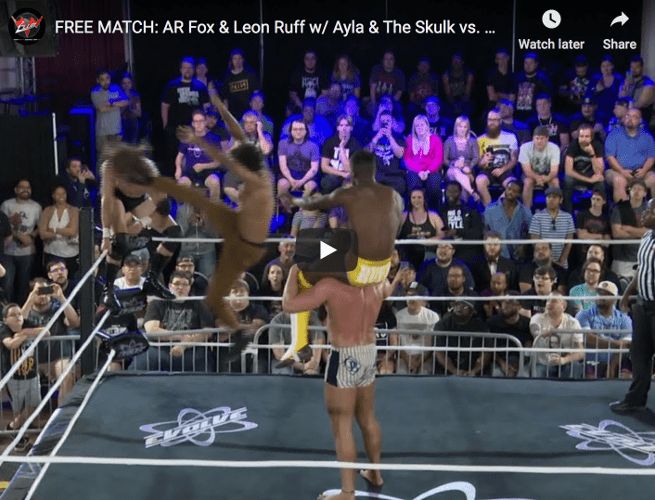 FREE MATCH: AR Fox & Leon Ruff with Ayla & The Skulk vs. Matt Riddle & Curt Stallion (EVOLVE 134)

When EVOLVE Wrestling debuted at Logan Square Auditorium back in August 2019 it was a crazy night and we expect no less when EVOLVE returns in December! Check out this EVOLVE Tag Team Championship Match with AR Fox & Leon Ruff w/ Ayla & The Skulk defending vs. Curt Stallion & Matt Riddle and get a sample of what to expect!
EVOLVE 141 – December 6th – Livonia, MI
Extreme Rules Match
Curt Stallion vs. Anthony Greene with Brandi Lauren
EVOLVE 142 – December 7th – Chicago, IL
Tag Team Attraction – If The Besties In The World Win at EVOLVE 141, This Will Be A Title Match
EVOLVE Tag Team Champions AR Fox & Leon Ruff vs. Besties In The World of Davey Vega & Mat Fitchett
Tickets & Info at http://www.WWNLive.com.
We are blowing things out for the www.WWNLive.com Holiday Season Sales. Check out these sales:
#1 – All Gear, Blu-rays & DVDs 50% Off (Includes PWG)
#2 – All VODs 50% Off (Excludes Kayfabe Commentaries)
#3 – 10 Blu-rays for $50 or 10 DVDs for $25 (Includes PWG)
#4 – Club WWN – 1st Month Free To All New Subscribers
#5 – Free $20 Gift with Every $50 Order
Join the Club WWN subscription service for only $9.99 a month. Watch every WWN Family event LIVE! Get access to over 1000 hours of footage from more than 400 events ranging from 2003 until now! https://wwnlive.com/my-account/club-wwn-registration/
Thank you for watching!