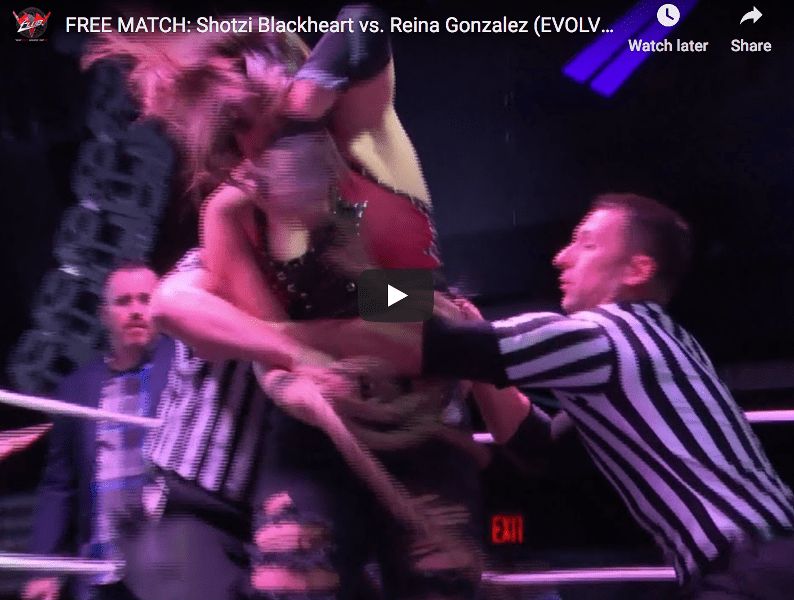 FREE MATCH: Shotzi Blackheart vs. Reina Gonzalez (EVOLVE 139)

To say that Shotzi Blackheart and Reina Gonzalez got off on the wrong foot would be an understatement. Between their match at EVOLVE 139 and their brawl during the EVOLVE 140 Recap, there was no choice but to put these two back in an EVOLVE ring against each other! Check out their first encounter to get a sample of what to expect when they do battle again in Livonia!
EVOLVE 141 – December 6th – Livonia, MI
EVOLVE 139 Rematch
Shotzi Blackheart vs. Reina Gonzalez
EVOLVE 142 – December 7th – Chicago, IL
Shotzi Blackheart & Reina Gonzalez In Action!
Tickets & Info at http://www.WWNLive.com.
We are blowing things out for the www.WWNLive.com Holiday Season Sales. Check out these sales:
#1 – All Gear, Blu-rays & DVDs 50% Off (Includes PWG)
#2 – All VODs 50% Off (Excludes Kayfabe Commentaries)
#3 – 10 Blu-rays for $50 or 10 DVDs for $25 (Includes PWG)
#4 – Club WWN – 1st Month Free To All New Subscribers
#5 – Free $20 Gift with Every $50 Order
Join the Club WWN subscription service for only $9.99 a month. Watch every WWN Family event LIVE! Get access to over 1000 hours of footage from more than 400 events ranging from 2003 until now! https://wwnlive.com/my-account/club-wwn-registration/
Thank you for your support!