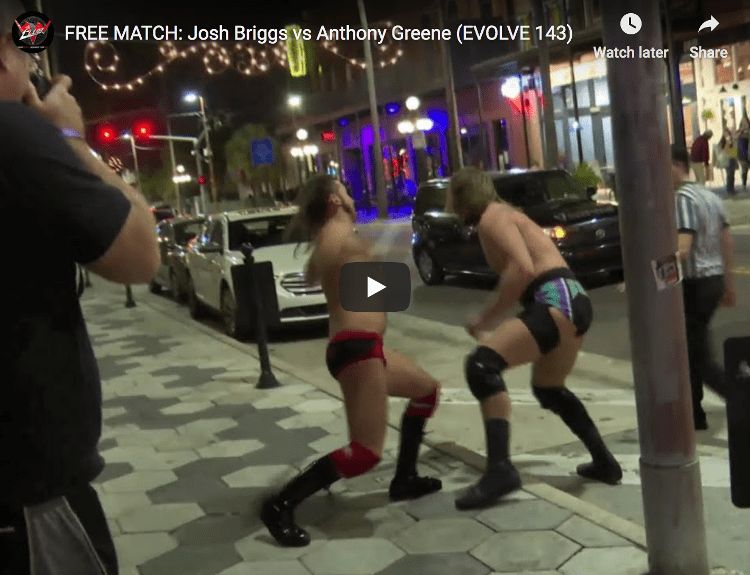 FREE MATCH: Josh Briggs vs Anthony Greene (EVOLVE 143)
Check out the hellacious Non-Title No DQ Falls Count Anywhere Match between EVOLVE Champion Josh Briggs and Anthony Greene w/ Brandi Lauren from #EVOLVE143 absolutely FREE!
See EVOLVE Wrestling live:
– February 29th – Queens, NY
– March 1st – Melrose, MA
– March 14th – Livonia, MI
– March 15th – Chicago, IL
Tickets & Info at http://www.WWNLive.com.
WRESTLExpo 2020 is coming to Tampa, FL WrestleMania Week!
Thursday – April 2nd
Noon – Accelerate: Initiate
4pm – Accelerate: Conclusion
8pm – PROGRESS
11:55pm –  WWN Supershow
Friday – April 3rd
Noon – EVOLVE
4pm – SHIMMER
8pm – TBA
11:55pm – Kaiju Big Battel
Saturday – April 4th
Noon – EVOLVE
4pm – wXw
8pm – TBA
11:55pm – A very special afterparty with matches and superstars!
Tickets & Info at WRESTLExpo.com
Join the Club WWN subscription service for only $9.99 a month. Watch every WWN Family event LIVE! Get access to over 1000 hours of footage from more than 400 events ranging from 2003 until now! https://wwnlive.com/my-account/club-wwn-registration/
Thank you for watching!