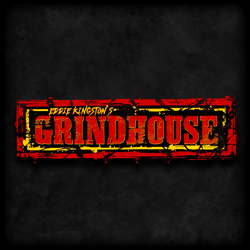 Full Card Announced for Eddie Kingston's Grindhouse: Ground Zero on September 26th!
After weeks of speculation and talent announcements, Eddie Kingston has disclosed the full card for Grindhouse: Ground Zero this Saturday, September 26th! The roster includes a diversity of experience levels ranging from 2-18 years in the sport, talent with international exposure and experience on national TV and for sure, talent that are ready to prove their muster in the squared circle.
When asked about the talent he chose, Kingston said: "I put out a pretty simple call — take your beating and stay down or get back up and get back into the fight. I saw many that replied and picked the most hungry for the Grindhouse." On the topic of what to expect from Grindhouse: Ground Zero, Eddie replied: "It's straightforward. You're there to win. The place that you win is in the ring. Get in the ring and fight to a finish!"
Eddie Kingston's Grindhouse: Ground Zero airs live on September 26th at 8 PM EDT on Club WWN, http://www.WWNLive.com and FITE TV and will feature:
Fred Yehi vs. Anthony Henry
JD Drake vs. Jon Davis
Thomas Shire vs. Jeremy Wyatt
Savannah Evans vs. Allie Recks
Sean Maluta vs. Kody Lane
Four Way Elimination Match
Joseph Black vs. Davey Vega vs. Troy Hollywood vs. Ariel Dominguez
Club WWN is THE subscription service for the independent wrestling fan, featuring on demand access to over 1000 hours of content from hundreds of events, live viewing of WWN Family events, loyalty points for purchases at http://www.WWNLive.com and more for only $9.99 per month! This is your destination for access to professional wrestling of all styles ranging from the top women athletes in SHINE Wrestling, battles with few rules in Full Impact Pro Wrestling, fights where actions speak louder than words in Eddie Kingston's Grindhouse, good old Southern rasslin' in American Combat Wrestling, Lucha Libre action for the entire family in Viva La Lucha, the best across all of WWN competing in the WWN Supershow, intergalactic battles between giant monsters in Kaiju Big Battel and much more to be announced! Club WWN is available on Android, iOS, Roku, Amazon Fire TV, Android TV, Apple TV, Apple Airplay, Google Chromecast, Facebook and the Club WWN Web App. Join Club WWN and get more info at https://wwnlive.com/my-account/club-wwn-registration/
The World Wrestling Network (WWN) is one of the top professional wrestling production houses in the United States with a legacy dating back to 2001. WWN is your gateway to the best independent professional wrestlers in the world through its promotional umbrella that includes WWN Family promotions (SHINE Wrestling, Full Impact Pro Wrestling, American Combat Wrestling, Viva La Lucha, WWN Supershow, Eddie Kingston's Grindhouse and more), Kaiju Big Battel and numerous independent promotions across the United States! WWN Family events appear live on Club WWN for subscribers and are also available for individual purchase at http://www.WWNLive.com and http://www.FITE.tv. Merchandise, including t-shirts, Blu-rays and DVDs from WWN Family promotions and others, are available http://www.WWNLive.com.