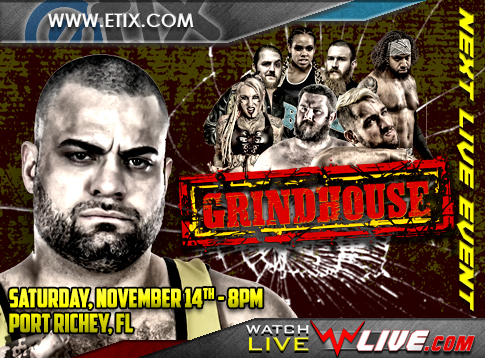 Eddie Kingston Talks Grindhouse 11/14 & More!
The name Eddie Kingston has been featured in the professional wrestling media quite a bit these days and his influence is not slowing down! This Saturday, Kingston's eponymous brainchild returns as WWN presents Grindhouse on November 14th. The card features a mix of talents who stood out at Grindhouse: Ground Zero as well as athletes that have caught Eddie's eye based on their showings in the squared circle. The voice of WWN, Lenny Leonard, returns for the call, along with the one-of-a-kind color commentary from Eddie Kingston himself.
When interviewed, Kingston provided these insights on his match-making: "Davey Vega was in the first Grindhouse match and he wasn't pleased with the outcome. I asked him to come out of his comfort zone last time but given he's a tag team wrestler, I really liked the idea of him being in the first Grindhouse tag team match to show what he can do in his element. Thomas Shire wanted another shot at Jeremy Wyatt, and after Shire's showing at Ground Zero, I said sure. I hope he doesn't regret it… Joseph Black showed me something in his initial victory but now we find out how he can handle someone the caliber of JD Drake. Show up and prove! I keep hearing about this Hunter Law kid, and Troy Hollywood impressed me with his win at Ground Zero, so it seemed like a natural fit to have two young, hungry guys face off. I had no clue that they broke in to the sport together when I made that match. When I think fight, Savannah Evans and Lindsay Snow are the first two female athletes that come to my mind. They don't come more tough than them. And while a family situation pulled Anthony Henry off September's event, seeing how good Fred Yehi looked last time I knew that I had to get those two in the ring to be the main event on November 14th. This is going to be my kind of night!"
Eddie Kingston's Grindhouse airs live on November 14th at 8 PM EST on Club WWN, http://www.WWNLive.com and FITE TV and will feature:
Anthony Henry vs. Fred Yehi
BESTies In The World of Davey Vega & Mat Fitchett vs. Sean Maluta & Ariel Dominguez
Savannah Evans vs. Lindsay Snow
JD Drake vs. Joseph Black
Thomas Shire vs. Jeremy Wyatt
Hunter Law vs. Troy Hollywood
A limited number of tickets are available at https://www.eventbrite.com/e/eddie-kingstons-grindhouse-tickets-128199033761!
Club WWN is THE subscription service for the independent wrestling fan, featuring on demand access to over 1000 hours of content from hundreds of events, live viewing of WWN Family events, loyalty points for purchases at http://www.WWNLive.com and more for only $9.99 per month! This is your destination for access to professional wrestling of all styles ranging from the top women athletes in SHINE Wrestling, battles with few rules in Full Impact Pro Wrestling, fights where actions speak louder than words in Eddie Kingston's Grindhouse, good old Southern rasslin' in American Combat Wrestling, Lucha Libre action for the entire family in Viva La Lucha, the best across all of WWN competing in the WWN Supershow, intergalactic battles between giant monsters in Kaiju Big Battel and much more to be announced! Club WWN is available on Android, iOS, Roku, Amazon Fire TV, Android TV, Apple TV, Apple Airplay, Google Chromecast, Facebook and the Club WWN Web App. Join Club WWN and get more info at https://wwnlive.com/my-account/club-wwn-registration/
The World Wrestling Network (WWN) is one of the top professional wrestling production houses in the United States with a legacy dating back to 2001. WWN is your gateway to the best independent professional wrestlers in the world through its promotional umbrella that includes WWN Family promotions (SHINE Wrestling, Full Impact Pro Wrestling, American Combat Wrestling, Viva La Lucha, WWN Supershow, Eddie Kingston's Grindhouse and more), Kaiju Big Battel and numerous independent promotions across the United States! WWN Family events appear live on Club WWN for subscribers and are also available for individual purchase at http://www.WWNLive.com and http://www.FITE.tv. Merchandise, including t-shirts, Blu-rays and DVDs from WWN Family promotions and others, are available http://www.WWNLive.com.