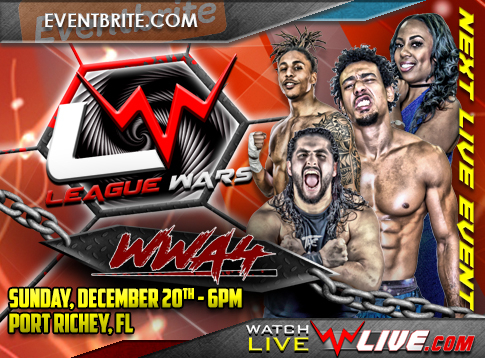 WWN League Wars Debuts Tonight Feat. AR Fox & WWA4!
World Wrestling Network presents
League Wars Season 1: Episode 1
Featuring WWA4 Pro Wrestling!
Sunday, December 20th, 2020
Doors Open – 5:30 PM EST
Bell Time – 6:00 PM EST
WWN WrestlePlex @ Gulf View Event Center
9409 US Hwy 19
Port Richey, FL 34668
Already announced:
WWA4 Internet Championship Triple Threat Match
Ash Taylor defends vs. Kavron Kanyon vs. AR Fox
FIP World Tag Team Championship Match
The Skulk of Adrian Alanis & Liam Gray defends vs. WWA4 Tag Team Champions NawfSide Heroes of Jose Manuel & Shoota Gabe
ACW Cruiserweight Championship Match
Bobby Flaco defends vs. Alonso Garcia
Special Challenge Match
Alex Kane vs. Damyan Tangra
A One-of-a-Kind WWA4 Freestyle!
Live Event Hostess Ayla Fox
Plus more with Takuri, Zamir Zuriel, Jake Kujo, The Renegade Enforcer, Justin Cole White, Cody Mason, Awol, Isaac Fox, Mykael Casanova & Johnny Blaze!