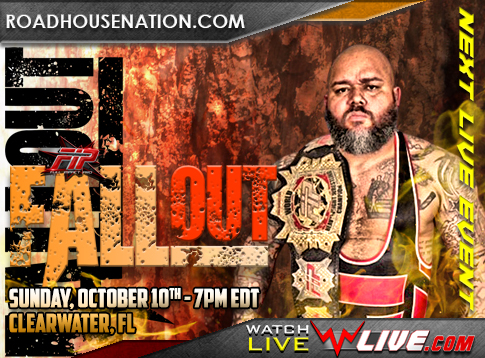 Full Impact Pro Wrestling presents Fallout 2021 Tonight!
WWN & OCC Road House Nation present
Full Impact Pro Wrestling Fallout 2021
Sunday, October 10th, 2021
Doors Open – 6:00 PM EDT
Bell Time – 7:00 PM EDT
OCC Road House
10575 49th Street North
Clearwater, FL 33762
Tickets available at www.RoadHouseNation.com
Golden Circle (reserved seating, first three rows): $20
General Admission: $15
Kids 9-13 GA: $10 with a paid adult
Kids 8 and under GA: FREE with a paid adult
Watch the Live Stream and Video-on-Demand at:
www.WWNLive.com
ClubWWN.lightcast.com
WWN Roku App
Club WWN Android App
Club WWN iOS App
Club WWN Amazon Fire TV App
Club WWN Apple TV App
Club WWN Android TV App
Club WWN Facebook Page
FITE TV
Already announced:
FIP World Heavyweight Championship Match
Jon Davis defends vs. The Dirty Dozen Eliminator Winner
FIP World Tag Team Championship Match
The Skulk of Adrian Alanis & Liam Gray defend vs. The Island Kingz of Jaka & Maluta
FIP Florida Heritage Championship Match – OAO Collide!
Troy Hollywood defends vs. Hunter Law
Tag Team Showcase
The Metro Brothers of JC & Chris Metro w/ Skinny Vinny vs. The NYC Crew of Donovan & Steve Pena w/ Nino Cruz
The Dirty Dozen Eliminator Match
Two Men Begin & Another Joins Every 60 Seconds!
Winner Gets A Main Event FIP World Heavyweight Championship Match!
Additional Matches Will Be Based On Order Of Elimination!
The Dirty Dozen Are:
– ACW Heavyweight Champion August Artois w/ Superstar Sean Davis
– Anthony Greene
– Azrieal
– Bobby Flaco
– Bryan Idol w/ Tracy Nyxx
– Jake Logan
– Karam
– Lucky Ali
– Mike Orlando
– Sage Scott
– Sideshow
– Snoop Strikes of The OAO
Special Thanks:
Orange County Choppers Road House & Museum! – https://www.occroadhouse.com/
Bert's Barracuda Harley-Davidson – http://www.bertsbarracuda.com/
Emerald City Comics – https://emeraldcitycomics.com