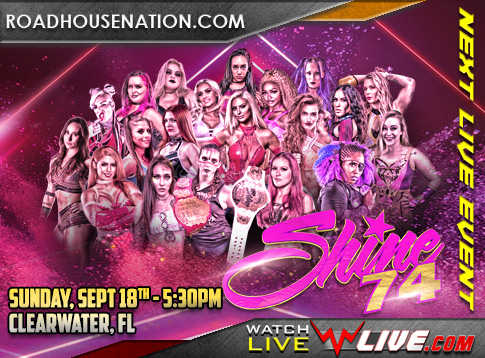 SHINE Wrestling returns to Clearwater, FL on September 18th!
WWN & OCC Road House Nation present
SHINE 74
Sunday, September 18th, 2022
Doors Open – 4:30 PM EDT
Bell Time – 5:30 PM EDT
OCC Road House
10575 49th Street North
Clearwater, FL 33762
Tickets available at www.RoadHouseNation.com
Golden Circle VIP (reserved seating, first three rows): $20*
General Admission: $15*
Kids 9-16 GA: $10 with a paid adult*
Kids 8 and under GA: FREE with a paid adult
*Tickets are $5 more the day of event
Watch the Live Stream and Video-on-Demand at:
www.WWNLive.com
ClubWWN.com
WWN Roku App
Club WWN Android App
Club WWN iOS App
Club WWN Amazon Fire TV App
Club WWN Apple TV App
Club WWN Android TV App
Club WWN Facebook Page
SHINE Tag Team Championship Match
The Coven of Kelsey Raegan & Chelsea Durden defend vs. Amber Nova & Ashley D'Amboise
SHINE Nova Championship Match
Renee Michelle defends vs. The W.O.A.D.
Plus More Featuring:
– SHINE Champion Ivelisse
– Kimber Lee
– Lindsay Snow
– Tracy Nyxx
– Kaci Lennox
– Lexi Gomez
– Rocky Radley
– Tina San Antonio
– Allie Recks
– Tiffany Nieves
– Labrava
– Devlyn Macabre
– The debuting Harley Cameron
– The debuting Kelly Madan
– The debuting Layla Luciano
– The debuting Tiara James