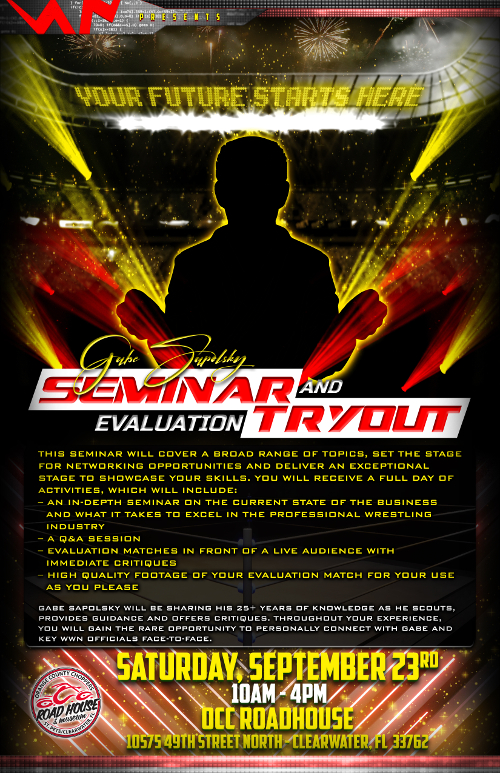 JUST ANNOUNCED: Gabe Sapolsky Seminar & Scouting Tryout – Clearwater, FL – September 23rd, 2023
Gabe Sapolsky will be sharing his 25+ years of knowledge as he scouts, provides guidance and offers critiques at the OCC Road House in Clearwater, FL. The track record of Gabe and WWN together have seen over 50 talents signed by WWE. All participants will  receive footage and professional pictures, plus everyone will be given a roadmap on how to enhance their careers.
This seminar will cover a broad range of topics, set the stage for networking opportunities and deliver an exceptional stage to showcase your skills. You will receive a full day of activities, which will include:
– An in-depth seminar on the current state of the business & what it takes to excel in the professional wrestling industry.
– A Q&A session.
– Evaluation matches in front of a live audience with immediate critiques.
– High quality footage of your evaluation match for your use as you please.
Throughout your experience, you will gain the rare opportunity to personally connect with Gabe and key WWN Officials face-to-face.
Wrestlers, managers and referees of all experience levels are welcome but you must have completed a training course to be eligible to participate. Broadcasters are also welcome to participate with the opportunity to ring announce, interview talent and/or commentate the live matches! To register, please fill out the form located at https://wwnlive.com/seminartryouts and pay using the link below.
Participants must be at least 18 years old.
All sales are final. There are no refunds or exchanges.